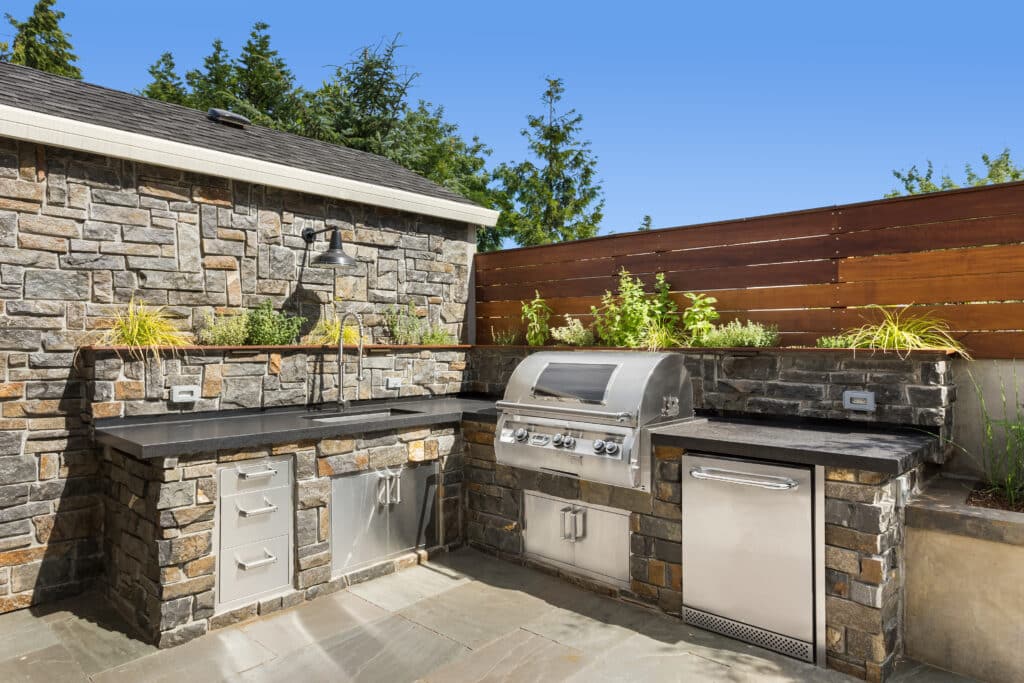 The season for long, relaxing evenings spent outdoors with family and friends has finally arrived. A natural stone outdoor kitchen or bar allows you to maximize your outdoor time, entertain easily and make clean-up a breeze. If you're considering making this wonderful addition to your home, you'll want to invest in the best materials. In today's post, the experts at Cosmos SurfacesTM discuss 5 benefits of a natural stone outdoor kitchen or bar. Let's dive in.
5 Benefits of a Natural Stone Outdoor Kitchen or Bar
Whether you simply want to enjoy the gorgeous weather or you love to entertain, a stone kitchen or bar outdoors is a great way to do it. Here are 5 benefits of installing a natural stone kitchen outside:
Durability
One of the biggest concerns when it comes to outdoor materials is durability in the face of wear and tear, and harsh weather. Natural stones like granite and quartzite are excellent options for outdoor kitchen countertops, bar tops or fireplace surrounds. These stones are hard, durable and naturally resistant to bacteria.
Weather Resistant
Granite and quartzite both hold up well to a wide range of temperatures. As both stones are highly heat resistant, they won't take on damage from heat as a result of cooking or extreme temperatures. Conversely, surfaces with a man-made component—such as quartz countertops that are held together with resin binders—can melt or warp in the face of extreme heat or direct sunlight. Porous stones run the risk of moisture damage, especially in the winter as water gets into the stone, freezes and expands. As a result, it's imperative to seal porous natural stones regularly and ensure you're selecting the best natural stone for your needs.
Aesthetically Cohesive
Natural stone outdoor countertops transition beautifully to outdoor landscaping and features like stone paths, stone garden walls or natural water features like ponds and water fountains. Opting for natural stone will create a cohesive, aesthetically pleasing look to your backyard oasis. Another reason we love natural stones like granite for the outdoors is that it's eco-friendly. Our natural stone is sustainably sourced and won't give off toxic chemical emissions the way man-made and manufactured products, like those containing plastics sometimes do.
Easy to Maintain
Natural stone features are a fan favorite in the home because they're beautiful, highly functional and easy to clean and maintain for generations. This translates to the outdoors as well. Make entertaining stress-free with a stone kitchen or bar top for your outdoor patio or entertainment area. To clean granite, simply wipe it down with a cleaner that is safe to use on natural stone. Regular sealing will go a long way toward maintaining your stone in the long run, while stubborn stains can be removed from natural stone in several ways.
Increases Home Value
Whether you decide to install natural stone on the inside or outside of your abode, it's sure to boost your home's overall value. Natural stone is synonymous with aesthetic beauty and luxury. An investment in natural stone is both long-lasting and sustainable. Outdoor entertainment areas, like an outdoor kitchen or bar, make for a highly sought-after feature that's sure to catch any buyer's eye. The National Association of Realtors reports that over 50% of home buyers are willing to pay more for a home with an outdoor living space, and outdoor kitchens are rising in popularity. This means an outdoor natural stone addition will help you create your own memories, while providing you with an excellent return on your investment if you ever decide to move on.
Natural Stone at Cosmos SurfacesTM
Natural stones can be used for a variety of outdoor applications, including countertops, walkways, fire pit or brick oven surrounds, pools surrounds, garden walls and outdoor patios. If you have questions about using natural stone for outdoor features like kitchens, bars, patios or fire pits, let us know!
Cosmos SurfacesTM is a 2nd generation, family-owned and operated business. We pride ourselves on sourcing high quality, sustainable products in a way that is respectful to the planet and local communities. Our team of experts is always happy to help answer questions and provide guidance on selecting the best natural stone to suit your needs and your budget. Contact Cosmos SurfacesTM today to learn more about our wide selection of natural stone products.
Color of the Month: Molasses
Molasses is a rich brown sugar color reminiscent of gingerbread, perfect for accent walls. Pair it with earthy natural stone or wood for dark honeyed tones.
Audax is a type of schist that is dynamically layered and one-of-a-kind. The layers create fluid bands of brown, black, silver, and white that is stunningly complex and pleasing to the eye. A work of art, audax looks great in kitchens and bathrooms. The long bands of layers can be installed as floors and countertops.
Rivers of gray and brown flow across this stunning white Brazilian marble. The Crystal River has a beautifully subtle pallet of whites, grays, and browns that help create an atmosphere of softness and sophistication, making it a perfect choice for traditional and modern homes alike. This marble is adored by homeowners for its simple elegance and is often seen as kitchen counters and bathroom vanities.
Please follow and like us: