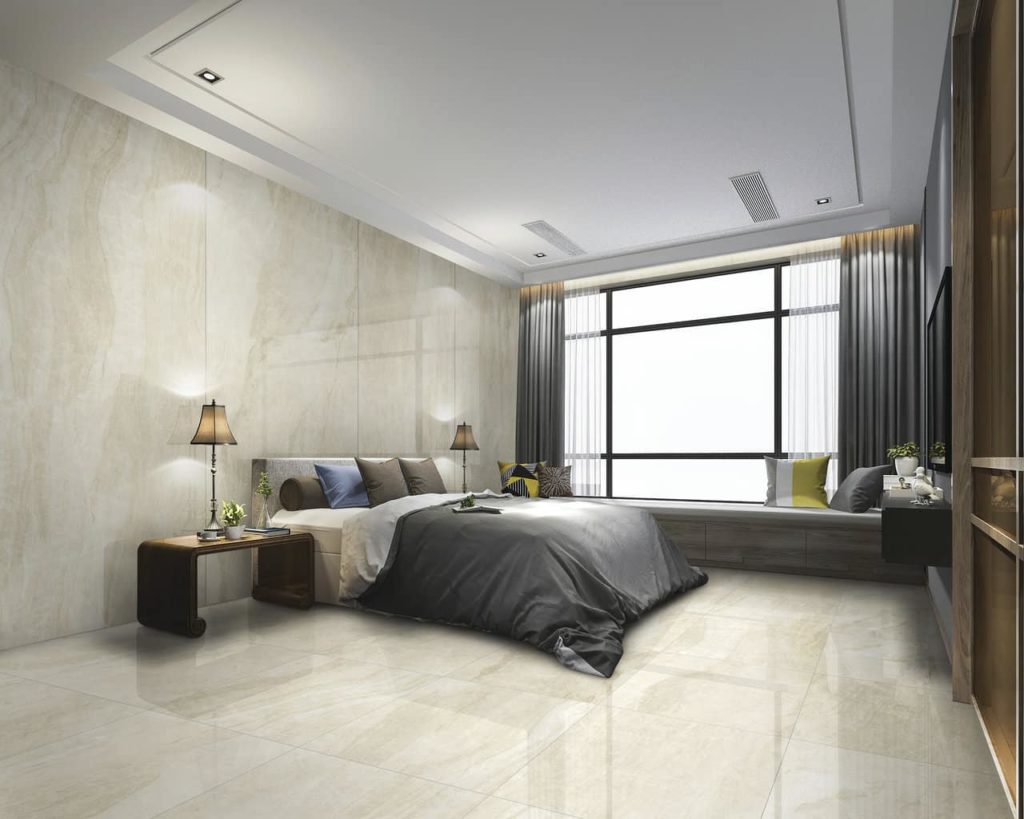 Alongside ceramic, porcelain tile is one of the most popular picks for backsplashes, flooring and other uses throughout homes and commercial spaces. For those seeking "porcelain tile near me," it's highly beneficial to work with surface professionals who can recommend the very best variety for a specific application and space, plus help with professional installation. 
At Cosmos SurfacesTM, we check all of these boxes! Read on to learn more about porcelain tile, the process of working with us to purchase it and the reasons why you'll want to.
All About Porcelain Tile: Properties to Love 
When it comes to the strong points of porcelain, there are a great many which might attract you to this engineered tile product:
Versatility – Porcelain can be a perfect fit in many spaces, from bathrooms to kitchens to mudrooms. Some varieties may even be installed outdoors with lasting success, thanks to the material's high level of resistance to cracking and fading amidst temperature changes.
Moisture compatibility – Porcelain is very water resistant. This characteristic makes it a more durable and low-fuss choice than most natural stone options, which typically need to be sealed (along with the grout lines) to guard against mold/mildew growth, staining and bacteria. All the while, porcelain maintains traction even when wet, making it a safe and smart choice for areas where water is an inevitable factor.
Ease of maintenance – Because sealing isn't necessary with porcelain, it's super simple to care for. Warm water and a mild cleaner should be all that's needed to keep porcelain in great shape through the years, along with cleaning and sealing the grout lines on a regular basis. Porcelain slabs in particular are a favored choice for higher-surface-area applications, as these large-format tiles minimize the amount of grout to be sealed.
Robust composition – As we've already mentioned, certain varieties of porcelain are weather resistant. They can handle high (and low) temperatures with ease because they are fired in very high heat. In addition, porcelain is flame, scratch and chip resistant, meaning you won't have to worry about how it will hold up in a highly trafficked residential or commercial environment.
Open design pathways – Porcelain can imitate marble, wood and other materials, giving you workable options for when you desire a certain look but find that porcelain is better suited to your application and/or budget. From subtle to show stopping, there are a range of design options to choose from.
With all of these perks, it's no wonder so many people are going for "porcelain tile near me." Still, there are some cases where ceramic tile or another material might better fulfill one's requirements and wishes. So, it's important to do your research and work with well-informed pros like the Cosmos team.
Find Quality "Porcelain Tile Near Me" at Cosmos SurfacesTM
Are you eager to explore "porcelain tile near me" and other spectacular surfaces? Cosmos has showrooms conveniently located throughout the U.S., where you can stop by and see our top surface selections in all their glory:
Boise, Idaho
Greenville, South Carolina
Spokane, Washington
Seattle, Washington
Savannah, Georgia
San Francisco, California
Salt Lake City, Utah
Portland, Oregon
Atlanta, Georgia
If you don't live close to one of our locations, fear not — you can reach out to our knowledgeable team online for remote assistance! Whether you're a homeowner or a building industry professional, our mission is to educate and assist you in finding the most ideal surface for the particular project you have on the horizon.
Collaborate with Our Surface Experts
At Cosmos SurfacesTM, we're well aware that constructing or remodeling a home or business is a major endeavor. To make your life easier, we strive to be the most reliable, simple-to-work-with partner from which to source all of your surfaces and surface-related information. From walking you through our selection to recommending the best fits for your needs to coordinating installation, we'll work hard to exceed your expectations every step of the way.
If you're seeking an expansive selection of "porcelain tile near me" and other surfaces of exceptional quality, look no further! Get in touch with us today or come into our showroom nearest to you to begin learning about our offerings and how they can elevate your personal or professional project.
Color of the Month: Vanilla
Vanilla is a light, pure golden-yellow with honey undertones. It is perfect for a study or entryway, especially when paired with wood tones or softer sand tone colors.
Take the journey to a place world-renowned as the homage to love – Taj Mahal. This Taj Mahal porcelain is a stunning champagne color with fine, soft lines of almost iridescent gold—worth being called one of the world's seven wonders in porcelain. The subtle golden hues of this Taj Mahal porcelain pair well with whites, ivories, greys, and other neutrals. Use outdoors on an open patio to see how this gorgeous color dances in the sunlight.
Creamy white quartz has never been so captivating as Mystic Gold Cosmos Quartz, with its gently rippling gold Carrara veins against a light foundation. This creamy quartz embodies the serene, soothing quality of wispy clouds drifting across a muted sky. Expect Mystic Gold Cosmos Quartz to hold up beautifully in demanding spaces such as bathrooms, kitchens, flooring, and beyond.
Please follow and like us: