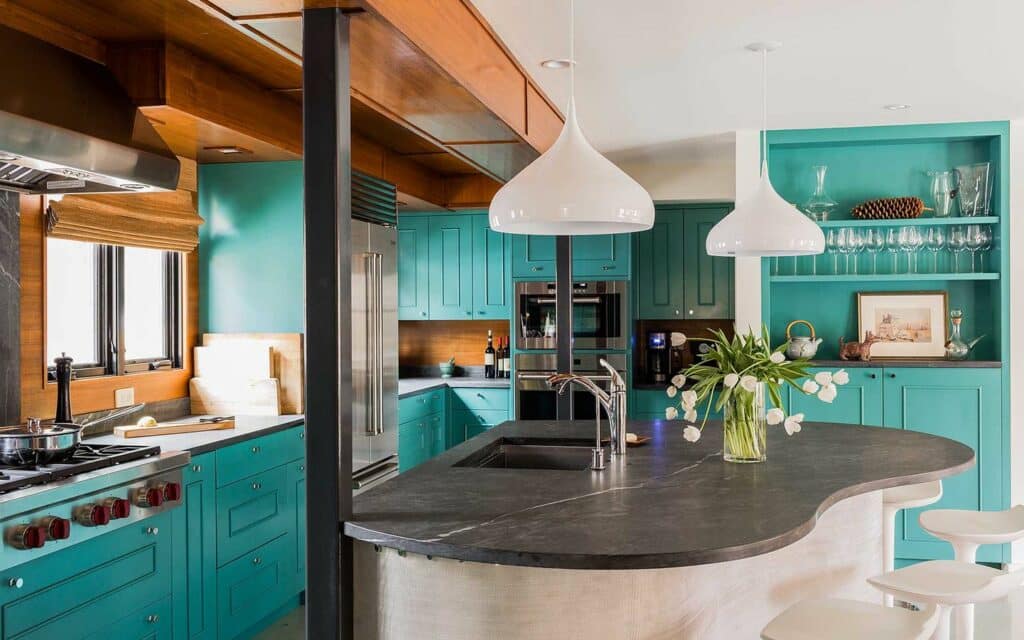 Each type of natural stone has a unique set of pros and cons that should factor into the decision to use it in the home. Soapstone is a gorgeous material that can make a wonderful addition to a living space in many forms, including countertops, flooring, wall tiles and fireplace surrounds. In this post, our experts discuss all you need to know about soapstone and answer common questions, like this one: "Is soapstone durable in the home?" Read on to learn more about this beautiful natural stone option.
What is Soapstone?
Soapstone is a metamorphic rock made from talc-schist. The stone is sometimes also referred to as steatite, which is the version of soapstone commonly used for applications like countertops, sinks, flooring, etc. Talc is the softest mineral on earth. As a result, the amount of talc present in soapstone will determine its softness and coloration.
Is Soapstone Durable?
Soapstone tends to be softer than natural stone options like granite or marble, but the question of durability depends largely on what the stone is used for. While soft, soapstone is incredibly dense, to the point that it is non-porous and essentially impenetrable by liquids. That means soapstone won't stain, take on damage from moisture or harbor bacteria.
Soapstone is also inert, which means it's non-reactive when it comes into contact with acidic substances and chemicals. For this reason, soapstone is a popular countertop choice in lab settings and acid rooms.
Because it is a softer countertop option, soapstone is more prone to take on damage like scratches, gouges and chips. While these can often be buffed out or filled in by DIY enthusiasts, busy kitchens that see a fair amount of wear-and-tear countertop traffic may benefit from a harder stone like granite. When it comes to applications like wall tiles and fireplace surrounds, soapstone can last for many generations.
The Benefits of Soapstone
Soapstone is well loved for its warm, inviting aesthetic. This material is popular in country kitchens and is often used to create a rustic, farmhouse look. That said, soapstone is incredibly versatile to design with and can be effective in styles ranging from modern to eclectic. Let's look at the benefits of soapstone.
Aesthetics — Soapstone is available in colors ranging from white to dark charcoal grey with beautiful, milky marbling. This neutral color range makes it easy to include soapstone in a wide range of design styles.
Versatility — As a non-porous stone with high heat resistance, soapstone has many common uses, from countertops to fireplace surrounds.
Bacteria-Resistant — Soapstone is the most dense natural countertop material on the market, which makes it easy to keep kitchen settings hygienic as this stone will not harbor bacteria growth.
Ease of Maintenance — Soapstone is easy to clean, doesn't need to be sealed and requires minimal ongoing maintenance.
Environmentally Friendly — Soapstone doesn't need to be treated with chemicals or sealers between getting quarried and installed in your home, which is good for the planet.
Soapstone Care and Maintenance
Soapstone requires minimal care. Owing to its non-porosity, the stone can be cleaned with mild soap and a non-abrasive sponge or cloth. Soapstone produces a natural patina as it ages, and many homeowners choose to treat soapstone surfaces with a periodic oiling to keep it looking its best and ensure even coloration over time. Mineral oil is non-toxic and can typically be found in most hardware stores and even in some pharmacies.
As soapstone is a fairly soft material, homeowners should always avoid cutting directly on soapstone countertops — this advice stands for any countertop surface material, no matter how hard or durable.
It's important to take care when placing heavy objects like glass dishes and cast iron pots or pans on soapstone countertops. Damage like scratches, chips or gouges can be buffed out or filled in by savvy DIY enthusiasts. Large gouges can be filled in with similar pieces of soapstone and epoxy.
Learn more about the benefits and uses of soapstone here.
Find Soapstone at Cosmos SurfacesTM
Cosmos SurfacesTM is a second-generation, family-owned business that takes pride in sourcing high-quality surface materials in a way that is respectful to the environment and local communities. Browse our soapstone options here or take a look at additional natural stone, kitchen sink and tile options.
If you have questions about soapstone or other natural stone products, give us a call at your nearest location or contact us online today. Our experts are always happy to help.
Color of the Month: Mercury
Mercury is a soothing mid tone gray with warm, brown undertones. Pair it with neutral blues and greens to make these colors stand out beautifully. Mercury is perfect for accent walls and main walls.
Silver Lightning is a versatile type of granite that looks great among stainless steel and black cabinets. A flashy streak of silver cutting through a mellow gray sky, silver lightning is simultaneously calm and striking. The subtle crystalline texture and honed finish of silver lightning make this a perfect installation for kitchen countertops, floors, and bathroom vanities.
With a vastly stretching, often changing pattern that resembles the great Himalayan mountain range drawn on a map, Himalaya White is a charming Brazilian granite. On its surface, black speckles and veins overlap patches of pale gray and white, creating intense depth and dimension. This stone is a classic choice for countertops, floors, walls, vanities and other design applications.
Please follow and like us: