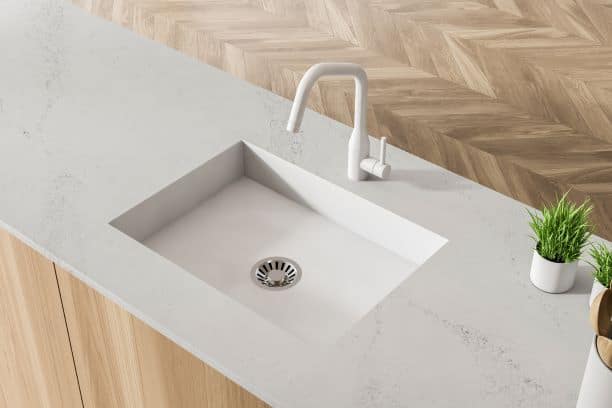 Among homeowners looking to bring timeless elegance mixed with a spark of modernity into their kitchens, white quartz countertops have become a leading choice. But, when looking at this design decision from a practical standpoint, many wonder: Do white quartz countertops stain? If you've had this curiosity, you'll be pleased to know that quartz is one of the most stain-resistant options out there, by virtue of it being nonporous. Let's explore this matter further and discuss other noteworthy features of this versatile countertop material.
Do White Quartz Countertops Stain?
In a bustling home kitchen, even the most careful cooks are bound to contend with some messes — especially if younger family members or guests are around. From fruit juice to red wine to pasta sauce to spices like turmeric and condiments like mustard, the thought of brightly colored staining agents might reasonably give one pause about whether a white countertop is really the best idea.
This leads us back to the question of "do white quartz countertops stain?" Let's answer this in more detail:
If you love the look of crisp white counters but are apprehensive about the possibility of discoloration, quartz is in fact one of your best bets, as it comes equipped with a natural barrier against liquids and other substances.
Unlike most natural stones, quartz doesn't need to be sealed to protect its surface from taking on stains. It is an engineered product made with a combination of tiny pieces of naturally derived quartz, byproducts recovered from industrial processes (such as pieces of glass) and other stones like granite or marble.
Its nonporosity also lends quartz built-in protection against bacteria and moisture, making it a well-matched choice for food prep spaces and the area around the kitchen sink.
When spills and splashes inevitably happen, it's still important to clean them up promptly to avoid the small possibility of set-in stains. This is best practice with any type of countertop, regardless of whether it's porous and sealed or nonporous and unsealed.
Daily cleanup is straightforward for quartz, with a simple blend of mild dish soap and warm water on a soft sponge or rag doing the job for most messes. Diluted rubbing alcohol can also be safely sprayed onto quartz as a disinfectant.
In summary, white quartz makes for magnificent looking countertops that are also quite resilient. So long as you stick to a regular care routine, you should have nothing to worry about in terms of this surface becoming discolored with daily use.
What Are My Quartz Options?
Seeing as it offers such easy maintenance and other distinct benefits over its long lifespan, it's no wonder why so many people go for quartz. White quartz in particular is far from boring, with options including:
Calacatta Regal, with dramatic gray and black veining intersecting into clusters against a bright white background
Calacatta Victoria, with wide veins of gray — bordered by darker gray and gold at the edges — traveling across a pale white backdrop
Cloud White, a mystical, airy white quartz that lives up to its name
…and many more varieties! Alas, even though the answer to "do white quartz countertops stain?" is "not easily," you still might wish to explore other options to accommodate your personal design desires. Luckily, there's a world of them! Browns, grays, blacks and beiges can all also be found in our full spectrum of quartz products.
Come to Cosmos for Dazzling Surfaces & Expert Guidance
If you're on a quest to find the best surface for your particular purposes, look no further than Cosmos Surfaces. Whether it's a stunning yet durable new kitchen countertop, accent walls, flooring, bathroom vanity, bar top, fireplace surround or even outdoor living space surfaces you seek, our surface specialists can guide you to the right pick based on your unique set of criteria. 
If you're eager to define your search and narrow down the options, choose us as your advisors. We can help from afar or in person at one of our showrooms, which are conveniently placed across the country. In either case, you can expect the very highest level of service and quality surfaces — manufactured quartz, a wide selection of natural stone and beyond.