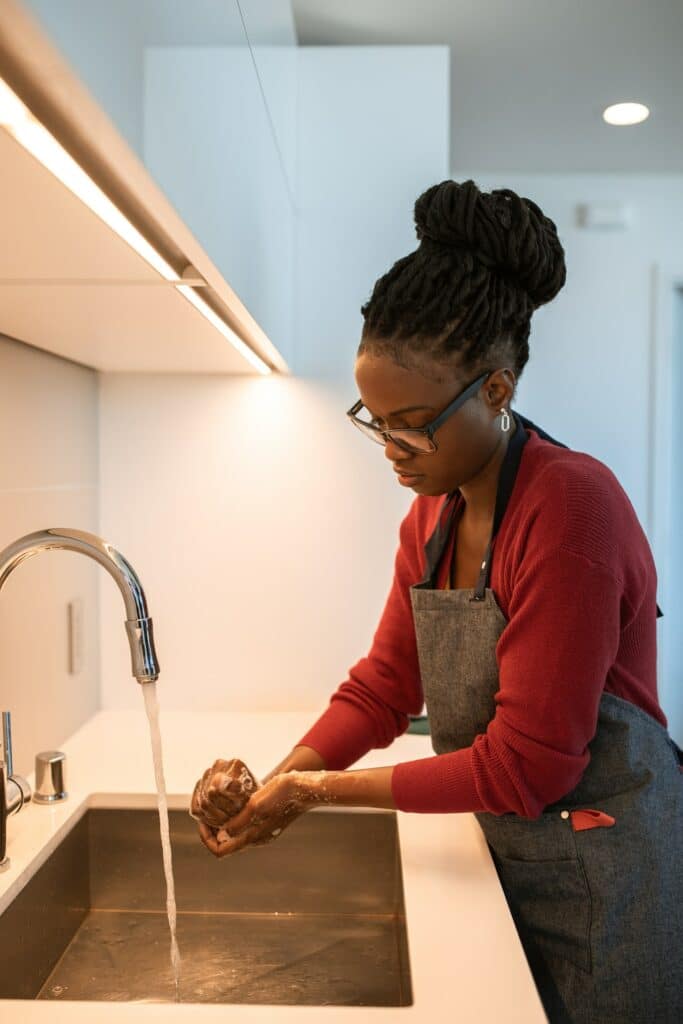 So, you're shopping for a new kitchen or bathroom sink and wondering where to start in terms of choosing a specific style. While the shape of your sink might not seem like a big deal, it can actually make more of a difference in the day to day than you might expect. In turn, it's well worth giving some thought to different sink shapes and where they tend to work best. Allow us to tell you more!
A Guide to Sink Shapes
At Cosmos Surfaces, we offer a wide selection of beautiful, high-performance surfaces along with a comprehensive collection of well-made sinks. Our knowledgeable experts are here to answer any and all questions you may have, pertaining to a specific project or just in general.
Let's get started with an introduction to some of the most popular sink shapes and their respective characteristics, best applications and other nice-to-knows:
Rectangle – Rectangular sinks help to maximize workspace, so they're great for active chefs and bakers who go through a lot of dishes. They can be a good fit for both kitchens and bathrooms, with porcelain, stainless steel and composite options available. Often, they come in single- and double-bowl formats, giving you the option to have one large basin or two separate, smaller areas for different tasks or purposes.
Square – If you prefer a symmetrical, straightforward sink that's functional but not too fussy, then square may be your best match. The Orion Pixie sink in particular makes a great compromise for kitchens and powder rooms that are short on space but still crave some contemporary flair. Just make sure the specific sink you have your eye on is deep enough for your favorite dishware to fit comfortably down into.
Oval/round – An oval or round sink is a timeless choice for the bathroom, where handwashing is the main daily use. They're easy to clean, as there are no sharp corners to get into. Still, some see these sink shapes as outdated and in turn stay away from them in their renovations. Round and oval sinks also tend to be quite shallow, meaning they're usually not the best choice for a busy kitchen.
For those having trouble making a firm decision with so many sink shapes to pick from, there's the Regency stainless steel sink, which toes the line between rectangle and oval and embodies both elegance and functionality.
An Important Note on Sink Edge Options
Beyond the basic shape, you also have choices when it comes to the edges of your sink!
Straight sink edges can look very modern and crisp, which is a plus to many homeowners who are going for this aesthetic — but bear in mind that this detail can increase the chance of glassware being chipped or broken.
To counteract this risk and simplify cleaning, many sinks are now being made with gently rounded corners, such as our Vortex single-bowl composite sink. Additionally, our Nekoda rectangular porcelain sink features curved corners that help to soften its look.
The Fresno L kitchen sink offers another way to meet in the middle, as it pairs two bowl shapes and sizes. A bigger, more rounded bowl on the left and a smaller, more rectangular one on the right provides clear separation of functions in a kitchen where multitasking is commonplace. The Fresno R sink with reverse layout is another variety proudly offered by Cosmos.
Pinpoint the Sink Best Suited to Your Needs 
Now that you have some background knowledge on sink shapes and other key considerations, feel free to reach out for assistance with selecting your very best match!  Our pros can also offer advice on which sorts of surfaces may mesh best with a particular sink style (or vice versa, if you already have a countertop picked out and now need a sink to go along with it). 
With locations across the country, we are proud to be the nation's most trusted family owned source for top-quality sinks and surfaces. To get started, reach out to us online or stop by your closest Cosmos Surfaces showroom whenever it's convenient for you! In the meantime, check out our design gallery to be inspired, and find details about each variety of sink we sell on our website.